19.06.2020 г.
Tinkoff Bank introduces Smart Engines technologies to enable QR-based payments
Digital bank Tinkoff expanded its long-lasting cooperation with software company Smart Engines to introduce technology for recognition of QR codes. The intelligent QR capture solution allows fast payment of taxes, fines, invoices, utility bills, and other receipts in the bank's mobile app.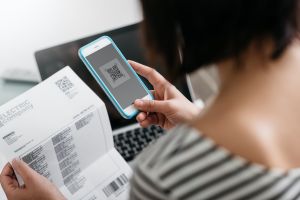 Over the last 4 years Tinkoff has been using Smart Engines solutions to enable automatic recognition of passport, driver's license, vehicle registration certificate, insurance policies, and bank cards for the users of the bank's mobile app (iOs and Android), and server solutions. The QR code scanning system makes it possible for Tinkoff clients to make purchases and money transfers, as well as pay various kinds of receipts, directly in the mobile application without the need to manually enter the details from those documents. Upon recognition, which is carried out on the user's mobile device, with the help of the camera, the data from printed or digital QR codes get automatically entered into relevant fields.
The solution supports both the latest versions of smartphones and old, low-cost mobile devices equipped with a camera. The recognition is performed in a video stream, in real-time, and all calculations in the recognition process are performed on the user's device. A plethora of various barcodes are supported by the intelligent QR-code capture system including one-dimensional barcodes (UPC-A, UPC-E, EAN-8, EAN-13, Code 39, Code 93, Code 128), and two-dimensional barcodes (QR Code, AZTEC, PDF 417, Data Matrix).
"The newly integrated technology from Smart Engines demonstrates high speed and accuracy of QR codes recognition, which greatly facilitates the process of QR payments in our mobile applications for our clients, "says at Tinkoff Bank. "Since QR capture is one of the simplest, fastest, and most promising payment tools, for us, the quality of the recognition technology is of paramount importance."
About Smart Engines
Smart Engines is the world's leading supplier of integrated solutions for the recognition of identification documents based on years of fundamental R&D conducted by scientists in the field of image recognition and processing, machine learning, high-load systems, recognition in the video stream and algorithmic optimization. IT, communications, and financial markets' leaders are using Smart Engines solutions, which are key contributors to the development of the digital economy infrastructure, providing high recognition accuracy and ensuring the security of personal data.