23.08.2021 г.
Smart Engines SDK 1.6.0 brings improvements to ID scanning and face verification
We've released Smart Engines SDK 1.6.0 to improve face matching, document face photo detection and extend a number of supported identity documents to 1749. This version understands new ID types and templates of the USA, Australia, Canada, Germany and more. You will find improved OCR accuracy and speed for Latin alphabets, Arabic, Hebrew, and Sinhalese. What's more, we have brought improvements to the MRZ scanner, barcode scanner and credit card scanner.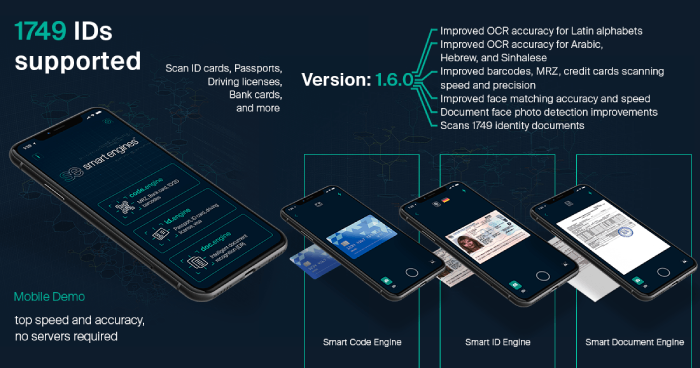 Find out other updates of automated data extraction using Smart Engines SDK 1.6.0 from video, photos or scans.
Common Smart Engines SDK 1.6.0 improvements
* New Swift/ObjC wrappers for iOS SDK – improved configuration and processing speed
* Multiple fixes in document recognition configuration
* Improved OCR accuracy for Arabic, Hebrew, and Sinhalese
* Overall accuracy and speed improvement for document recognition
* Other minor fixes and improvements
* New MRZ recognition – significant accuracy improvement
* Improved barcodes scanning speed and precision
* Improved embossed cards recognition accuracy
* Improved face matching accuracy and speed
* Document face photo detection improvements
* Fixed common options setting behaviour in some configuration bundles
* Improved Russian vehicle registration certificate recognition
* Improved Russian registration stamp recognition on mobile devices
* Document liveness AI: holographic security elements detection added for new document types
* Document liveness AI: improved screen re-capture detection
* Smart Document Forensics: new checks added
* New document types added:
– Australia residence permit
– Gambia driving licence
– Cambodia driving licence
– Lebanon driving licence
– Saint Lucia driving licence
– Myanmar driving licence
– Nicaragua residence permit
– Nauru driving licence
– Panama driving licence
– Panama residence permit
– Senegal driving licence
– Solomon Islands driving licence
– USA firearm permit (Texas)
– USA veteran card
– Zambia ID card
* New templates added for document types:
– Australia ID card (Queensland)
– Belgium visa
– Brunei Darussalam ID card
– Canada ID card
– Côte d'Ivoire ID card
– Czech Republic residence permit
– Germany visa
– Honduras ID card
– India driving licence (+12 templates)
– Malta residence permit
– Poland visa
– Russian tax identification certificate
– Thailand ID card
– USA border crossing card
– USA driving licence (Oklahoma, Wyoming)
– USA medical card
– USA vehicle registration certificate (Alaska, North Dakota, Nebraska)
* Now 1749 document types supported
* Other minor fixes and improvements
* Improved fixed layout forms location and identification accuracy
* Other minor fixes and improvements
To get a trial Smart Engines SDK for your mobile, desktop, server and web applications, please contact our sales team sales@smartengines.com.