02.03.2021 г.
Meet Smart Engines SDK 1.3.0: borders expansion and improvements
With the beginning of the spring, our company is also flourishing. Smart Engines, launching Smart Code Engine, Smart ID Engine and Smart Document Engine 1.3.0, continues working with various forms and, therefore, increases the number of international document types for its processing. New SDK versions, based on the slogan – easy, fast and private – provides better complex system accuracy and speed-up. Moreover, have a look at an essential update in Smart Document Engine!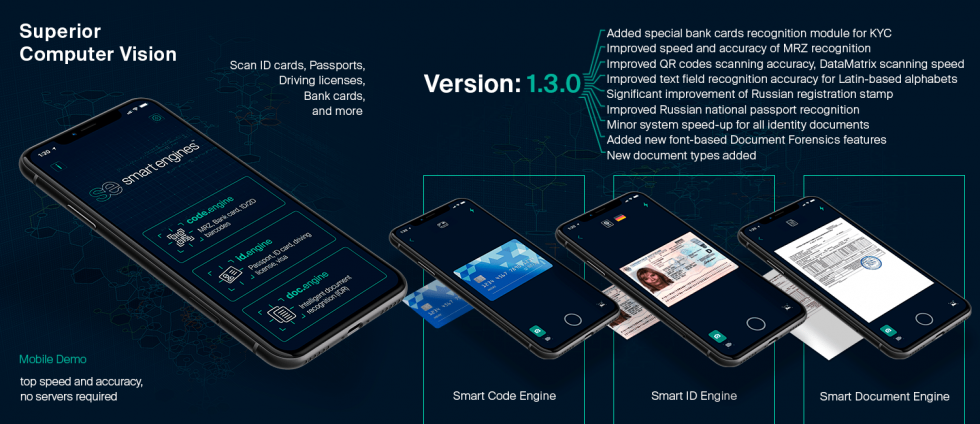 – Smart Code Engine 1.3.0 includes:
* Added special bank cards recognition module for KYC
* Improved speed and accuracy of MRZ recognition
* Improved QR codes scanning accuracy and DataMatrix scanning speed
– Smart ID Engine 1.3.0 introduces such updates as:
* Improved text field recognition accuracy for Latin-based alphabets
* Significant improvement of Russian registration stamp
* Improved Russian national passport recognition
* Minor system speed-up for all identity documents
* Added new font-based Document Forensics features
* New document types added:
– Ecuador driving licence
– Egypt driving licence
– Grenada ID card,
– India driving licence,
– Morocco driving licence
– MRZ subtype for Kenya ID
– El Salvador driving licence,
– San Marino driving licence,
– Seychelles ID card
– South Sudan ID card
– South Africa driving licence
* New templates added for document types:
– Belgium ID card,
– Columbia driving licence,
– Estonian residence permit,
– Finland residence permit
– Hungary residence permit
– Iraq ID card
– Kenia ID card,
– Lithuanian visa,
– Norway passport and ID card
– Pakistan driving licence
– Paraguay driving licence,
– Polish residence permit
– Uruguay driving licence,
– USA driving licence (Georgia)
Smart Document Engine updates:
* Added C# integration interface
* Added template-free text recognition module for Cyrillic-based and Latin-based languages
* Improved fixed forms detection and location speed
* New document types added:
– Russian international passport application (2021 edition)
– COVID-19 test result certificates for three major test providers in Russia.
To get a trial Smart Engines SDK for your mobile, desktop and web applications, please contact our Sales Team sales@smartengines.com.