14.05.2021 г.
Smart Engines became one of the 14 companies to recover the tourism industry in Portugal in the post-COVID-19 era
Smart Engines, a science-driven company, is participating in an international program The Journey PT 2021 for speeding up the restart of the Portuguese tourism industry after the pandemic. The main goal of The Journey is to help solve business challenges using global innovative solutions, especially for tourism. Turismo de Portugal is featured as the main partner of the program. The Journey is organized by collaborative innovation consultancy Beta-i.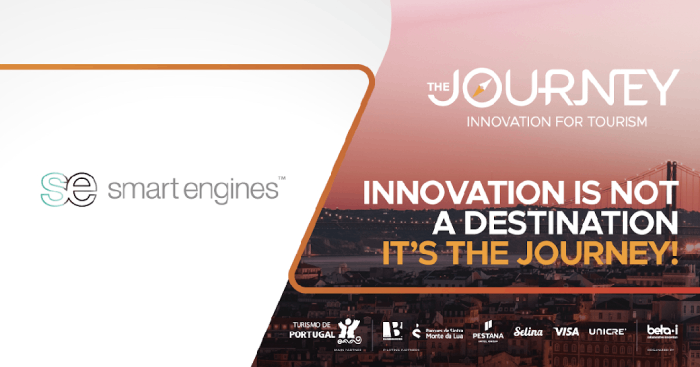 Since March 2021, Smart Engines has been taking part in The Journey workshops with the purpose of expanding its international relationships, sharing its experience, and working closely with the program partners in the Portuguese tourism industry. After passing several stages, Smart Engines was selected from 370 companies and is now among 14 finalists. Among other finalists are 2 companies from Portugal, the UK, Spain, and France; 3 companies from Israel; 1 from the USA and 1 from the UAE. They present the solutions and software products to the challenges in the areas of Hospitality, Parks & Monuments, Tours & Activities, Payment Solutions. The Journey has brought together the representatives of various tourism branches: Barranqueiro Group, Parques de Sintra, Pestana Hotel Group, Selina, VISA, UNICRE.
Taking part in this project, Smart Engines introduces Green AI-based fast and secure solutions for the scanning of ID cards, passports, driver's license, credit cards, barcodes, and other documents, such as payslips or questionnaires. The implementation of state-of-the-art technologies is GDPR-compliant, the customer's data is processed securely without any need to send it to external services. The Smart Engines software can instantly extract data from a video stream, photos or scans made using any mobile devices and web cameras in real-time.
Using Smart Engines recognition technologies enables companies to reduce the precious time spent on paperwork and document processing, as well as to optimize the customer onboarding experience. It opens up limitless possibilities for business such as creating automatic check-in systems for boarding a plane, getting into a hotel, or purchasing a ticket, and constructing high-efficiency ID checking and validation procedures.
Smart Engines is a member of the United Nations Global Compact Initiative. The proprietary GreenOCR® technology minimizes processor energy consumption and carbon footprint thanks to the framework of low-bit pipelines for deep neural network inference. The client base comprises Tinkoff Group, Dukascopy Bank, Emirates NBD, Oman Arab Bank, Raiffeisen Bank, Beeline, BioCollections Worldwide, Blockpass IDN, Caribbean Airlines, iDenfy, NEC, Tessi, Travizory, VerifyMyAge, and others.