17.12.2020 г.
Smart Engines' AI in 2020: €2.75 Million revenue, 64 scientific papers, 91.9 Million recognitions, and four new products
The scientific company Smart Engines, which develops Green AI technologies and data-isolated recognition systems, summarizes its activities for 2020. This year the company released a new generation of Smart Vision Engines – software for automatic data extraction of ID documents, bank cards, barcodes, business documents, biometric verification, and a brand-new Engine for computed tomography. The company's annual revenue exceeded 2.75 million euros, which is 1.8 times more than in 2019, while the annual number of sold recognitions rose to 91.9 million. Smart Engines researchers published 28 scientific papers and presented 36 reports at international conferences ICMV, ICIP, and ICPR. Smart Engines' solutions continue to help companies meet the requirements of GDPR, CCPA, and national regulators worldwide regarding personal and sensitive customer data processing during the onboarding, user verification, and online payments.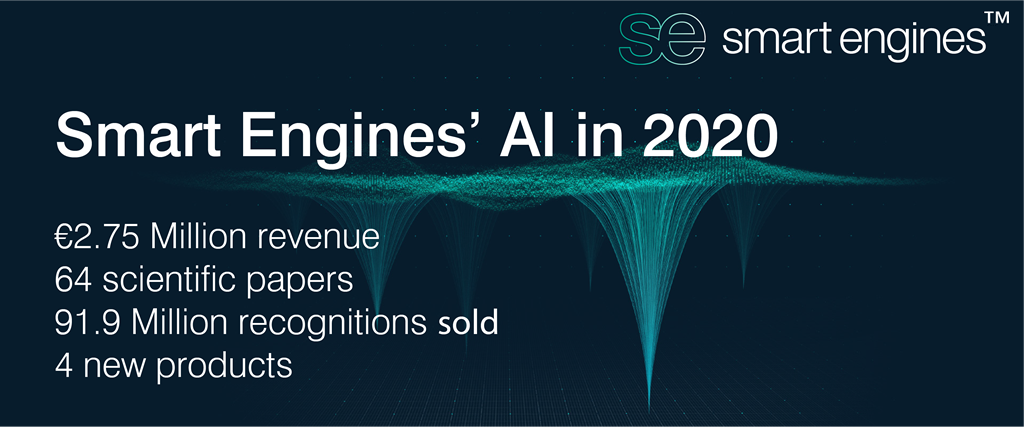 Smart Vision Engines include software development kits (SDK) that solve various computer vision problems. Smart ID Engine allows you to recognize data from more than 1530 types of ID cards, passports, driver's licenses, and other ID documents of 210+ countries (territories) worldwide with support for 100 languages. Over the year, the Arabic language support and 430 new document types have been added to the product, as well as verification algorithms for computational document liveness, computational document forensics, and face biometric verification. Smart Code Engine is designed to recognize bank cards, barcodes, and MRZ. In 2020, support for bank card recognition with flat printing, vertical ID data alignment, cards with lettering on both sides, as well as cards with an IBAN number was added. Smart Document Engine is a new enterprise solution for automatic classification, extraction, and recognition of fields from business documents. Smart Tomo Engine is a software solution for tomographic image reconstruction.
Smart Engines researchers presented 64 scientific papers this year. Of these, 28 were published in peer-reviewed scientific journals, including three articles – in Q1 quartile-rated by WoS (IEEE Access and Sensors) and three articles – in Q1 quartile-rated by Scopus (Computer Optics and Journal of Structural Biology). 36 papers were presented as reports at the leading scientific conferences in the field of AI, computer vision, and image processing: the 13th International Conference on Machine Vision (ICMV 2020), 27th IEEE International Conference on Image Processing (ICIP 2020), and 25th International Conference on Pattern Recognition (ICPR 2020).
Smart Engines scientific research and development focused on energy-efficient, responsible, and safe AI. Annual key scientific results are, firstly, the combination of the language-independent segmentation algorithm and deep learning OCR method, which has achieved excellent precision in the world's document recognition given unsurpassed energy efficiency and, secondly, the new uniform color coordinates system, ProLab, which serves to enhance the precision color analysis in the forgery detection. Smart Engines' achievement in the computed tomography became a definite scientific breakthrough in 2020: the world's most computationally efficient reconstruction algorithm was developed and an innovative approach of the AI monitored X-ray measurement protocol was proposed, which guarantees the lowest possible radiation dose keeping the reconstruction accurate.
This year, we have prepared 7 bachelors and masters, and one of our graduate students successfully completed her Ph.D. on the topic of Auto-calibration of geometric lens distortions by Hough spectrum analysis.
The company's client base has increased by 40% compared to 2019. This year, the list of clients of Smart Engines solutions for user identification, remote service, business process optimization, and payment services development includes: Citibank, Raiffeisen Bank, Rosbank, Alfa-Bank Kazakhstan, BioCollections Worldwide, Digitax, FreshCredit, iDenfy, NEC, NNTC, MVideo-Eldorado, Smaregi, Tessi, Travizory, Twino, VerifyMyAge, and others.
In its activities, Smart Engines promotes the idea of responsible technology creation. The company's commitment to high-quality standards, environmental responsibility, and data security in AI development is reflected in its accession to the international initiative based on sustainable development – the UN Global Compact. The products developed in 2020 received an update of the proprietary AI technology GreenOCR®, which was created as part of the Green AI approach. The new 4-and 8-bit deep neural network inference models that reduce the carbon footprint in the process of learning and executing AI algorithms have been implemented.
Summing up the results of the year, Smart Engines claims: "2020 was a hard year for everyone, but thanks to our brilliant team we have increased the pace of development and launched a new product line, implementing our main idea — 'Security should not compromise privacy.' This year, businesses and governments faced the necessity to apply remote service and remote identification technologies, which have moved from the nice-to-have category to the must-have one and gave a tangible boost to our business worldwide. The company has had a successful year and hopes to maintain its momentum by introducing new products. I want to congratulate everyone on the upcoming holidays and wish a happy holiday season, a New Year filled with Peace, Joy, and Success!"