24.11.2021 г.
Smart Engines SDK 1.8.0 brings new AI-powered modes to scan barcodes in multi-code and continuous sessions
We've released Smart Engines SDK 1.8.0 with an improved barcode scanning system, Tamil language OCR and added additional Arabic ligatures support. This version can scan 1D and 2D barcodes when several codes are present in the frame simultaneously and when it is necessary to read these codes one by one in a video stream in real-time. You will find improved OCR accuracy and speed for multiple languages and scripts.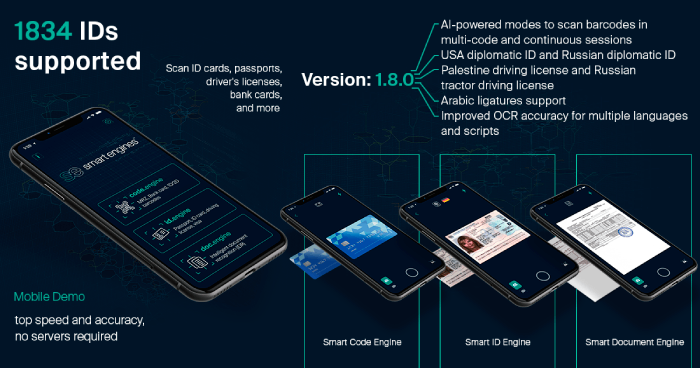 The improved AI-driven Smart ID Engine also supports new ID document types that were not supported before, such as USA diplomatic ID, Russian tractor driving license, Russian diplomatic ID, and Palestine driving license.
Smart Engines SDK 1.8.0 has extended the number of supported documents to 1834 with 11 new subtypes. The number of unique supported templates increased to 2470.
What's new in 1.8.0
* Smart Code Engine: new barcode scanning modes: multi-code scanning and continuous session scanning
* Smart Code Engine: ITF14 barcodes support
* New WebAssembly SDK with dynamic browser features identification
* Barcodes scanning implemented for all supported ID document types
* Arabic ligatures support added
* Tamil language OCR improvement
* Improved OCR accuracy for multiple languages and scripts
* Overall document layout analysis and recognition improvements
* Improved detection and recognition of registration stamp for a Russian passport
* Significant improvement of Brazil driving license recognition
* Smart Document Forensics: new file-based forensics functionality
* Smart Document Forensics: new bank card forensics functionality
* Smart Document Forensics: OCR-A detection and validation for ID documents
* Smart Document Forensics: new ID checks implemented
* New ID document types added, which were not supported previously:
– Belarus birth certificate
– Palestine driving license
– Russian diplomatic ID
– Russian tractor driving license
– USA diplomatic ID
* New document subtypes added:
– Belgium residence permit
– Canada residence permit
– Czech Republic visa
– German driving licence
– German residence permit
– Estonian passport
– Greek visa
– Croatian residence permit
– Luxembourg driving licence
– USA driving licence (Nevada)
– USA medical insurance cards (9 new templates)
* Now 1834 document types with 2470 unique templates supported
* Other fixes and improvements