28.09.2021 г.
Smart Engines SDK 1.7.0 brings OCR to new EU IDs and 2X speed up of freeform credit cards scanning
Smart Engines is proud to announce SDK 1.7.0 release with major improvements in scanning speed and types of supported documents. This version recognizes new types of free-form credit cards with a breakthrough AI-powered 2X speed up and is able to scan new ID cards and residence documents of European Union citizens as well as new Schengen visas in accordance with the Regulation (EU) 2019/1157 which came into force in August 2021.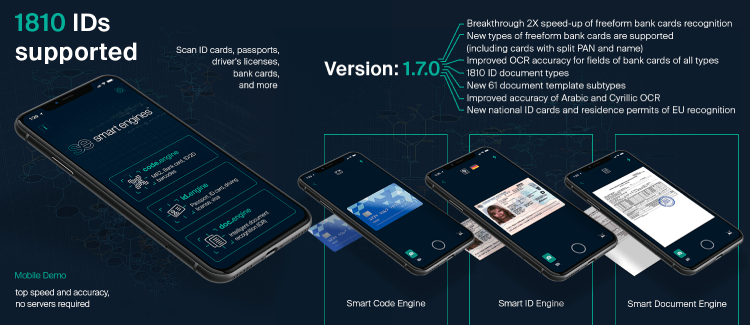 According to this Regulation, all IDs of EU citizens must follow specific criteria in order to strengthen their security. Smart Engines 1.7.0 understands new ID template types which follow the Regulation including residence permits, visas and ID cards of EU members Austria, Spain, Estonia, Finland, France, Greece, Croatia, Hungary, Italy, Lithuania, Luxembourg, Malta, The Netherlands, Portugal, Romania, Slovakia, Sweden, and Latvia.
The improved AI-driven Smart ID Engine now also supports new ID document types which were not supported before, such as vehicle registration certificates of Egypt and United Arab Emirates, residence permits of Mexico, Iraq, Uzbekistan, Belarus, Georgia, Moldova, and Montenegro.
Smart Engines SDK 1.7.0 has extended the number of supported documents to 1810 with the addition of 61 new subtypes. The number of supported unique templates increased to 2441.
Check out the full list of improvements below:
Smart Code Engine 1.7.0
* Breakthrough 2X speed-up of freeform cards recognition
* New types of freeform cards are supported (including bank cards with split number and name)
* Improved OCR accuracy for fields of bank cards of all types
Smart ID Engine 1.7.0
* Improved accuracy of Arabic and Cyrillic OCR
* General improvement of ID document template parsing and recognition accuracy
* Improved detection and recognition speed for Russian registration stamp
* Fixed potential internal linking conflicts in static iOS binaries
* Fixed Flutter module linking with apps using dynamic pods on iOS
* Updated interface for face matching
* Forensics: forensic fields support in plain-C interface
* Forensics: new checks added for multiple document types, improved check validation accuracy
* Forensics: validation of optional extra characters in Russian documents
* New ID document types added, which were not supported previously:
– United Arab Emirates: vehicle registration certificate
– Egypt: vehicle registration certificate
– Iceland: visa
– Mexico: residence permit
– Russia: seafarer identity document
– United States of America: military ID card
– Uzbekistan: residence permit
– Burundi: driving licence
– Belarus: residence permit
– Georgia: residence permit
– Iraq: driving licence and residence permit
– Moldova: residence permit
– Montenegro: residence permit
* New document template subtypes added:
– United Arab Emirates: ID card
– Austria: residence permit and ID card
– Brazil: residence permit
– Switzerland: visa
– Dominican Republic: residence permit
– Spain: ID card, visa, residence permit
– Estonia: visa
– Finland: visa
– France: visa
– Greece: residence permit
– Croatia: visa and ID card
– Hungary: visa and residence permit
– Italy: residence permit and visa
– Lithuania: ID card and residence permit
– Luxembourg: visa and residence permit
– Malta: ID card
– The Netherlands: residence permit and visa
– Norway: residence permit
– Portugal: residence permit and visa
– Romania: ID card and residence permit
– Slovakia: visa
– Sweden: residence permit
– Australia: driving licence (Western Australia)
– Benin: ID card
– Latvia: residence permit
– New Zealand: passport
– Papua New Guinea: driving licence
– Russia: death certificate
– Turkey: residence permit
– United States of America: driving licence (Utah), passport
– Vietnam: ID card
* Now 1810 document types with 2441 unique templates supported
* Other fixes and improvements
Smart Document Engine 1.7.0
* Improved detection of supported fixed-layout forms
* Improved layout parsing for supported flexible-layout forms
* Added NER-based Russian multi-template invoice recognition
* Improved accuracy of Arabic and Cyrillic OCR
* Other fixes and improvements