21.12.2020 г.
Smart Engines released the Smart ID Engine SDK 1.1.0
Smart Engines updated Smart ID Engine SDK to 1.1.0. We have reduced configuration bundle size, added 57 new document types added (with 75 templates), improved face matching functionality, as well as scanning accuracy of passports, ID cards, driver's licenses, barcodes on a mobile phone, tablet, or server.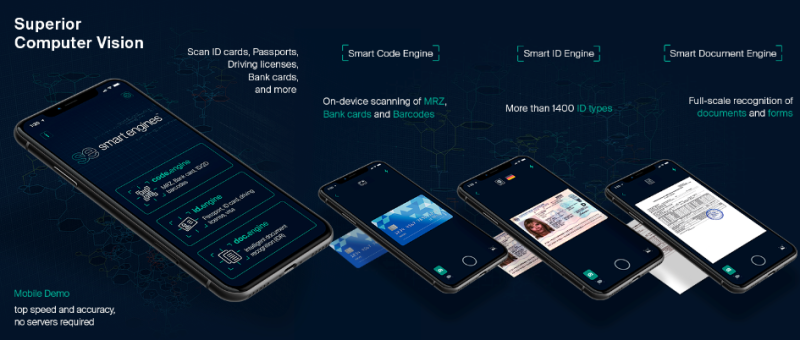 Version 1.1.0 automatically recognizes photos and scans of documents, regardless of their quality, as well as in video streams from a web or smartphone camera, robust to capturing conditions.
NEW & IMPROVE
* Reduction of configuration bundle size (6% for full configuration)
* Improved parallelism scheme – up to 20% performance increase on high-core CPUs
* Parallel configuration – up to 60% increased initialization speed
* 57 new document types added (with 75 templates)
* Added Thai language support;
* Speed-up of document detection and matching
* New face photo detection improvement;
* Face matching functionality improvement;
* Improved document type verification subsystem
* Improved quality and speed of QR, DataMatrix, PDF-417 and AZTEC scanning
* Improved face detection on documents
* Improved Russian internal passport recognition;
* Document Forensics: new text features extraction and verification
* Ability to control the number of worker threads added
* New document types added:
– French medical insurance card
– Mali ID
– Namibia ID
– Nicaragua ID
– Nepal ID
– Philippines ID
– Somalia ID
– Tanzania ID
– Maldives ID
– Nigeria national identity management system card
– Russian workshop card
* New templates added for document types:
– Australia ID
– Australia driving licence
– Palestine ID
– San Marino ID
– Suriname ID
– Uruguay ID
– United Arab Emirates driving licence
– USA driving licence (multiple states)
– South Africa ID
– Australia ID
– Burkina Faso passport
– Egypt passport
– Hungary ID
– Luxembourg passport
– Nigeria ID
– USA Humana medical cards
* Other fixes and improvements.
Smart ID Engine SDK 1.1.0 allows to extract data from 1530 document types in more than 100 languages.