25.05.2020 г.
Smart Engines AI-based identification technology gets integrated into Azerbaijan's first remote insurance app
Insurance broker Odlar Yurdu, developer of Azerbaijan's first mobile multifunctional insurance application SigortApp introduces document recognition technology by Smart Engines.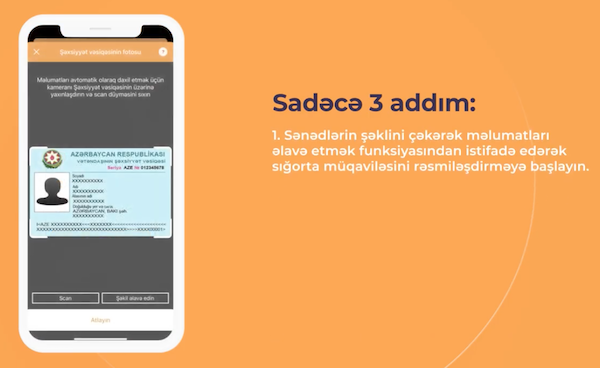 Odlar Yurdu positions its intelligent app as an "insurance company in your pocket" because it provides customers with the opportunity to receive treaty-based insurance services in a couple of clicks. Smart Engines technology allows the user to get automatically identified by capturing their personal information from an ID document, as well as register the object of insurance.
SigortApp is the first mobile application on the Azerbaijani market which allows to get almost any type of insurance without leaving home, including but not limited to: property insurance (vehicle, real estate), travel, health, and life insurance. The built-in recognition system by Smart Engines, which is based on computer vision, allows recognizing such documents as Azerbaijani ID or vehicle registration certificate within the app. To enter that data into the contract, the user simply needs to either show the relevant documents to the camera of their mobile device or take a picture of those documents.
The automatic nature of the process simplifies customer experience: the whole process from drawing up the insurance contract and obtaining the electronic copy of the insurance policy will take no more than 3 minutes. But, more importantly, the Smart Engines system performs the data extraction on the client's mobile device and it never transfers personal data to third-party services for processing.
According to Odlar Yurdu Executive Director Ramil Abdulaev: "When working on the app's functionality, we were guided by the principle of "Simple and Easy-to-Use". In insurance, Identification and contract filling are two very important steps, and the process automation is aimed at minimizing possible errors during the personal data entry. Smart Engines solutions fully meet our needs, providing the necessary speed and accuracy of recognition. The introduction of recognition technology into our application makes it truly advanced and unprecedented on the national market."
"Simply designing an application is not enough today – it is important to also make it convenient, intuitive, fast, and safe. We are doing everything possible to make sure our technologies provide secure personal data processing and help our customers become industry leaders by offering truly innovative high-quality ID recognition". Smart Engines CEO, Candidate of Technical Sciences Vladimir Arlazarov.
Press Release on Biometric Update – https://www.biometricupdate.com/202005/smart-engines-and-innovatrics-expand-document-recognition-and-onboarding-services-in-eastern-europe