26.06.2020 г.
A smart idea to make game industry legitimate, secure and inviting
Due to the spread of SARS-CoV-2 coronavirus, which causes COVID-19 infection, one-fifth of the world's population faced the necessity to stay at home, and the audience of the online game industry began to grow rapidly. Gaming has become a preferred form of entertainment for players from all backgrounds and ages. During the strict worldwide quarantine, up to 24 million people were on the Steam platform, and up to 1.3 million people were on the CS:GO platform. Thus, the computer game industry is moving up every year with a rapid progression. The industry revenue is growing by more than 10% a year: in 2017, online games earned 117 billion euros, in 2018 – 135 billion euros, and by 2021, as predicted, the industry revenue will be close to 180 billion euros. Taking into account the quarantine due to COVID-19, these figures may have been underestimated. It is a huge market that attracts more and more gamers every year. There is evidence that by 2023 the audience of virtual worlds will approach 820-850 million users worldwide.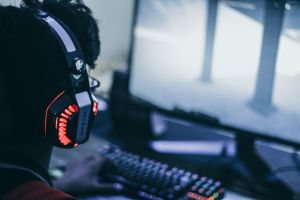 One of the main challenges the gaming industry faces today is to ensure that only identified users have access to online games and only adult users have access to mature content.
The issue of user verification concerning the access to free gaming platforms, as well as pay-to-play games, has already been debated in many countries. In the UK, Germany, and Switzerland, compulsory user identification and age verification requirements have been introduced at the legislative level.
In South Korea, the so-called "Shutdown Law" (or Cinderella Law) has been in effect since 2011, which forbids children under the age of sixteen to play online video games between the hours of 00:00 and 06:00. To register for the game at night, a player must enter his/her personal data and confirm the age. Today's adolescents are tech-savvy enough. To cheat the system teenagers even start forging and stealing ID documents to have an opportunity to play at night.
Age verification and ID document check of a person who wants to log in to the game service solves multiple tasks at once. It's relevant to check the user's age in the game system to exclude the possibility of the minor's access to adult content. It is of fundamental importance for a game platform and its distributors to shield children, as violation of age limit can lead to severe fines and even closure. Client identity verification – whether the account owner logs in as a user or not- must be taken into account. It's essential to prevent the stealing of user accounts, as well as the use of other people's accounts in illegal activities.
Hooliganism on playing fields is a matter of concern. Some countries have become concerned about access authentication to gaming resources using national and international ID documents (passports, ID cards) to prevent illegal activities that users or groups of users can conceal as chatting or playing group games.
Finally, it's necessary to make sure that the user who makes the payment and the user registered in the system are the same person. It often comes out that parents' credit or debit cards are linked to the children's gaming accounts and in-game purchases can be made without parental permission. Then parents are hit with unexpected bills and big sums. The use of remote verification of the user's identity using intelligent document recognition (IDR) allows you to prevent the use of someone else's card, to create your own game arsenal, a tank battalion, naval squadron and level-up computer heroes.