22.07.2021 г.
Call for the 1st ICMV Document Liveness Challenge 2021 against identity forgery
Smart Engines, in cooperation with Russian Academy of Science (FRC CSC RAS and IITP RAS) and Laboratoire Informatique, Image et Interaction (L3i) of La Rochelle University in France, organizes the 1st ICMV 2021 Document Liveness Challenge (DLC 2021) that will last till August, 29. This year's DLC event will supplement the regular program of the 14th International Conference on Machine Vision held on November 08-12, 2021 in The Sapienza University of Rome, Italy. The main goal of the challenge this year is to bring together leading experts in computer vision and develop novel algorithms for identity document forgery detection. Developers of mobile ID documents recognition systems will demonstrate its effectiveness using large and diverse image dataset. ​​A report on the competition will be published in the ICMV 2021 conference proceedings. At the end of the competition, the testing dataset along with the required program to run the evaluation measures will become publicly available.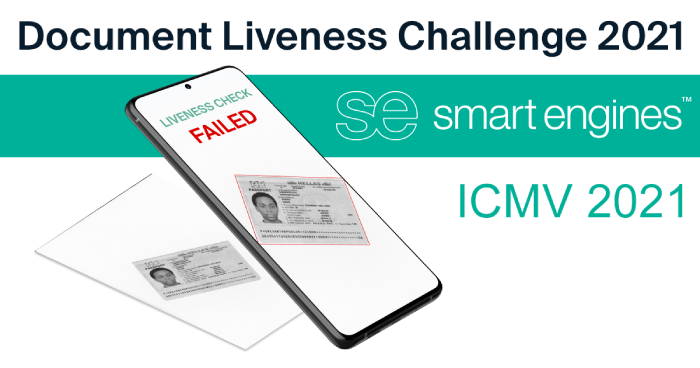 The document liveness check to detect fraud is a crucial topic. Implementation of contactless onboarding and identity verification arouses fraudsters' interest. The COVID-19 pandemic has become a catalyst for both an active distribution of such remote systems and the growth of criminal cases of fraudulent documents usage. Due to leaks from users' personal devices and databases of various companies and government services, the number of fraud incidents increases. Therefore, systems for document verification and identification will be in high demand.
Document liveness detection for identity document verification is an important step in the document recognition pipelines. It is imperative to have a benchmarking dataset along with an objective evaluation methodology to capture the efficiency of current document liveness detection methods. The DLC's dataset will be the first dataset containing document images that are representative of the potential problems which are challenging in the document liveness detection process.
DLC 2021 will consist of three challenge topics: Document Image ReCapture Detection, Document Photocopy Detection, Unlaminated Document Detection. For these challenges, participants should distinguish a document copy made from the screen, a photocopy, and an unlaminated copy between originals. The competition is based on the MIDV-2020 dataset (arxiv.org/abs/2107.00396) and its specifically prepared extensions. The images for DLC 2021 are made by capturing video clips using a smartphone and splitting them into frames with subsequent annotation of identity document quadrangles. The ground truth for each video clip contains 50+ frame annotations.
All research groups engaged in image processing, as well as individuals, are invited to participate in the competition. You can read the full description of the challenge, as well as submit an application for participation on our website Smart Engines DLC 2021.